Exciting News: Bloomsbury's Opens at RAK Mall in Ras Al Khaimah!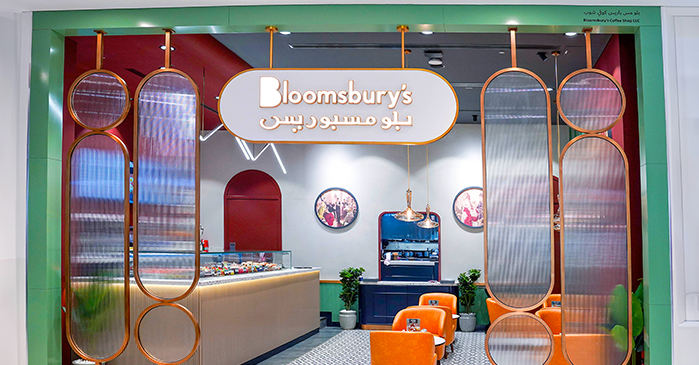 If you're a coffee aficionado or simply appreciate a cozy café atmosphere, then Bloomsbury's in RAK (Ras Al Khaimah), UAE, is the perfect destination for you. Situated in the heart of RAK, Bloomsbury's offers an inviting space to relax and indulge in a wide variety of coffee blends, accompanied by delectable treats. In this blog, we will explore what makes Bloomsbury's a must-visit location in RAK, where coffee enthusiasts can savor the finest brews amidst a delightful ambiance a must visit destination for Coffee Lovers. And also decadent cakes to savory dishes, there's something to satisfy every craving at this delightful café.
Aesthetic Delight
Upon stepping into Bloomsbury's, you are immediately immersed in a charming and aesthetically pleasing environment. The café boasts a fusion of rustic and contemporary designs, featuring cozy seating arrangements, beautiful décor, and natural lighting that creates a warm and welcoming atmosphere. Whether you're looking to catch up with friends, read a book, or work on your laptop, Bloomsbury's provides the ideal ambiance to enhance your overall experience.
Experienced Baristas
Behind every great cup of coffee is a skilled barista, and Bloomsbury's prides itself on its team of highly trained and experienced professionals. These baristas have mastered the art of coffee-making, using their expertise to create impeccable brews that satisfy even the most discerning palates. Their dedication to their craft is evident in every cup, as they strive to provide customers with a memorable and flavorful coffee experience.
Delectable Culinary Offerings
Bloomsbury's is not just about exceptional coffee; it also offers an array of delectable culinary delights. The café's menu features a selection of freshly baked pastries, cakes, and sandwiches, all crafted with the utmost care and attention to detail. Whether you're craving a buttery croissant to pair with your morning coffee or a savory sandwich for a quick lunch, Bloomsbury's menu has a delectable option for every craving.
Special Offer for all coffee lovers at Bloomsbury's
Delightful Treats & Coffee.

Only at AED 25/- Bloomsbury's invites you to treat yourself to a mouthwatering Buttered Croissant, Almond Croissant, Eclairs, or Cannoli while savoring every sip of your favorite Cappuccino, Latte, Americano, or Double Espresso. Monday to Thursday, 2 Pm to 6 Pm.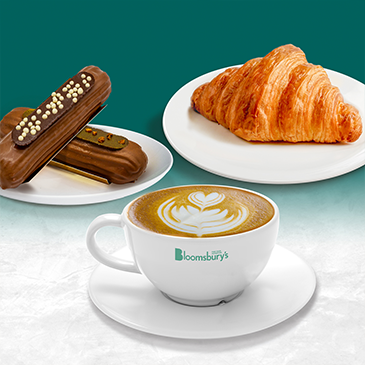 Decadent Cake & Desserts
Bloomsbury's takes great pride in its selection of decadent cake and desserts. Indulge your taste buds with a variety of options, including rich chocolate cakes, moist carrot cakes, velvety cheesecakes, and fruit-infused creations. Each dessert is meticulously crafted, combining exquisite flavors and textures to create a truly memorable experience. Whether you're celebrating a special occasion or simply treating yourself, Bloomsbury's cake desserts are sure to leave a lasting impression.
Hot Food Delights
In addition to their delectable desserts , Bloomsbury's also offers a range of hot food options that are perfect for a satisfying meal. From hearty sandwiches and wraps to flavorful pasta dishes and wholesome salads, their menu caters to diverse tastes and dietary preferences. The café's commitment to quality ingredients and expert preparation ensures that every bite is a delightful culinary experience. Whether you're looking for a quick bite or a more substantial meal, Bloomsbury's hot food offerings have got you covered.
Special Offers: Breakfast and Business Lunch at Bloomsbury's
Delicious Breakfast starts @AED 28 only/- From 7:00 AM to 11:00 AM

Business Lunch For @AED 42 only/- From 12:00 PM to 5:00 PM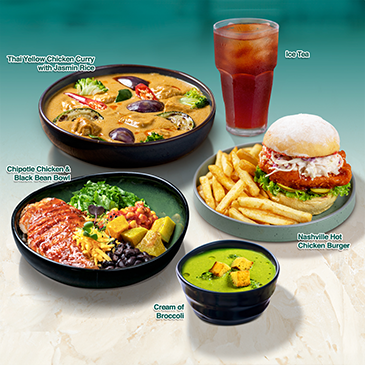 Business Lunch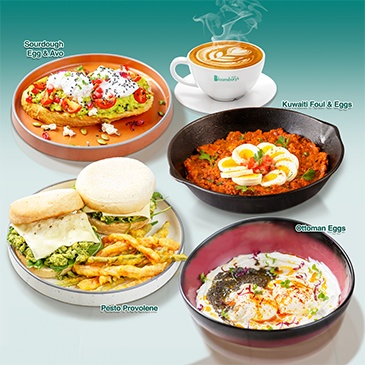 Breakfast
Specialty Beverages
While coffee takes center stage at Bloomsbury's, the café also presents a variety of specialty beverages to complement their culinary delights. Enjoy a refreshing iced tea infused with fruits and herbs, or choose from an assortment of flavorful smoothies and freshly squeezed juices. For those seeking a non-coffee alternative, Bloomsbury's menu offers a diverse range of options that cater to various taste preferences and dietary requirements.
Buttery Croissants & Danish pastries
Aside from their cakes and hot food, Bloomsbury's features an assortment of artisanal bread and pastries that are baked fresh daily. From buttery croissants and flaky Danish pastries to crusty baguettes and soft brioche rolls, the café's selection is a testament to their commitment to quality and craftsmanship. Pair these delectable treats with your coffee or enjoy them on their own for a delightful taste experience.
Community Hub
Beyond its outstanding coffee and delectable food, Bloomsbury's has become a beloved community hub in RAK. It serves as a meeting place for locals and tourists alike, fostering a sense of connection and camaraderie. Whether you're engaging in friendly conversations with fellow coffee enthusiasts or immersing yourself in a cozy corner with a good book, Bloomsbury's provides a space that encourages social interaction and a sense of belonging.
Conclusion
Bloomsbury's in RAK is more than just a café; it's a destination that caters to the needs of coffee lovers seeking a remarkable experience. From the inviting ambiance and exceptional coffee blends to the delectable culinary offerings and vibrant community atmosphere, Bloomsbury's offers a haven for those who appreciate the finer aspects of café culture. So, if you find yourself in RAK and in need of a caffeine fix or a cozy spot to unwind, make sure to visit Bloomsbury's and indulge in the delightful world of coffee it has to offer.